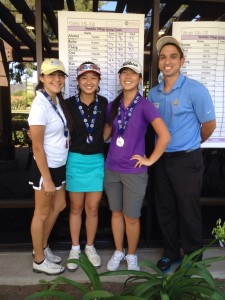 15 year old, Felicia "Fish" Chang, won the Westlake Village Spring Classic by posting a 3 over par 70. Felicia won by a stroke over Andrea Han, who shot 71. Felicia is in a battle to finish in the top five of the Spring Player of the Year point's race. The top 5 player's get exempted onto the Toyota Tour Cup without having to go through the qualifying process. With Felicia's win and her 3rd place finish in the Scholl Canyon Spring Shootout on Saturday, should give her a "lock" to place within the top 5. Prior to this weekend's play, Felicia was in 3rd place.
Matthew Huo finished in a tie for 6th place in the Boys 12-13 division. Matthew was disappointed with his 8 over par 75. Understandably, because he was coming off two weeks of personal best score's.
Aaron Chang finished in a tie for 13th place with an 83, in the Boys 14-15 division. Sherilyn Villanueva shot 39 and finished in 4th place in the Girls 9-11 division.
At the Scholl Canyon Spring Shootout, Sebastian Vallejo shot even par 60 to finish in 3rd place while Matthew Huo, shot 2 over par 62 to tie for 4th place in the Boys 12-13 division. Aaron Chang shot a 12 over par 72 to finish in a tie for 16th. Sherilyn Villanueva, shot a 2 over par 32 to finish 3rd in the Girls 9-11. As mentioned earlier, Felicia Chang won the Girls 15-18.
On the National scene, Kat Muzi got a top 10 finish at the 2014 Golfweek West Coast Junior Invitational, with a two day score of 150 (77-73). Kat was quite upset with her first round score that produced two double bogies (uncharateristic) that put her well back in the pack. The Kat's second round produced a birdie and two bogies on the front side with 2 birdies and 2 bogies on the back. She finished strong with a birdie on the par 5 finishing hole. Madeline Chou, Kat's friend, lit it up with a 6 under par 138, with a pair of 69's.
The event was played at Mesa Country Club in temperature's of 105F! These kid's are TOUGH!