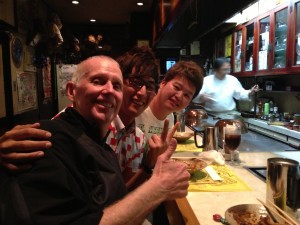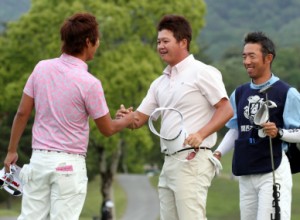 It is ironic that best friend's on the Japan Golf Tour, Jay Choi and Yoshikazu Haku were paired together in the first round of the Kansai Open Golf Championship being played this week at the Roko Country Club, Hyogo, Japan.
Haku shot a bogey free -6 under par 66 to take a one shot lead over 5 players that posted 67's. Yoshi's good fortune's did not rub off on his friend, Jay, who posted a disappointing +2, 74 that left him in a tie for 102. Jay's unexpected round consisted of 3 birdies, 10 par's and 5 bogies. Although Jay's score is not what he had in mind as the pair teed off on number one, Jay will fight back and try to post a low score to make the cut and allow him to play on the weekend.
The photo's show Jay congratulating Yoshi on the 18th hole after finishing the first round. The second photo show's Jay, Yoshi and your's truly, with Master Sasagawa at his famous Master Sasagawa Steak House Cook Barn. GREAT FOOD!!!
Live scoring can be seen at www.jgto.org