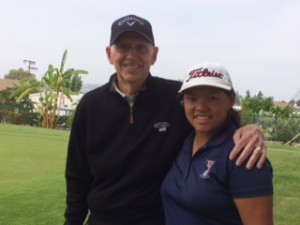 14 year old Elizabeth Wang, San Marino, CA is preparing for two important event's to be held in the month of June, the Rolex Girls Junior Championship and the Rolex Tournament of Champions. The Rolex Girls will be contested June 9-13 at The Country Club of Rochester, in Rochester, New York, while the Rolex Tournament of Champions will be played, June 23-27, 2014, at the Richland Country Club in Nashville, Tennessee.
Elizabeth is an outstanding young player that is currently ranked #16 in the United States by Golfweek/Titleist/Sagarin. She has won 2 AJGA event's and is looking forward to the 2014 season. Elizabeth has recently selected George Pinnell to be her coach and is in the process of making changes to help the talented youngster be more consistent with her iron play and driver length.
Elizabeth will leave for Rochester, NY, on June 6.