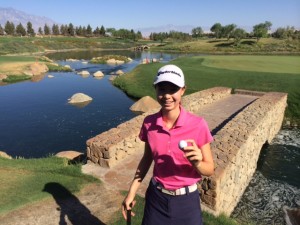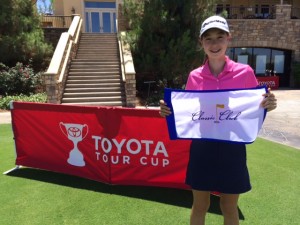 Katherine, The Kat, Muzi made her first hole in one of her career on the 124 yard, 12th hole at The Classic Club, Palm Desert, CA. The event was a Toyota Tour event. Following the hole in one on the second day, Katherine played the last 7 hole's in -2 under par. Unfortunately, to little too late. Katherine had a difficult start, scoring a 41 on the opening 9 before lightning struck on the 12th hole. She finished the round with a 76 to go along with her first day score of 80. Katherine finished in a tie for 11th place with a two day total of 156 (80-76). Alyaa Abdulgany, Newport Beach, CA, won the event with a 140 (70-70).  Katherine is currently ranked 140 in the latest, Golfweek/Titleist/Sagarin national rankings.
In action on the SCPGA Junior Tour, Crystal Wang finished in 2nd place with a solid 75 (+3) in the Girls 12-14 division at the 64th Annual Gail Stockton Memorial. The event was played at Arrowhead Country Club. Crystal has been working hard on rebuilding her swing and feeling comfortable with the new swing on the course. Crystal shot an even par 37 on the front with a birdie and a bogey while giving up 3 bogies on the back side for a 3 over 38. Crystal's coach, George Pinnell, was super happy with Crystal's performance and is encouraged about her future.
Matthew Huo, finished in a tie for 9th in the Boys 12-13 division with an 81, while Jomar Veloso, shot 85 and finished in a tie for 12th. Jomar's coach, George Pinnell was pleased with Jomar's performance and is encouraged by for him in future events. Aaron Chang, shot 92 and finished in 19th place.
In the Boys 9-11 division, Derek Xu, shot 50 and finished in a tie for 8th place.
In Garb JDL action, Ryan Toh, shot 48 to place 24. Don't let Ryan's score fool you, Ryan is a "smallish" very committed, competitive youngster that work's super hard on improving his game. As Ryan get's older, we will see more of him on the leaderboards.