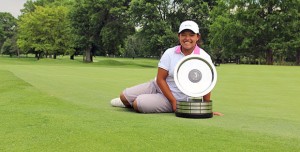 ROCHESTER, N.Y. — Elizabeth Wang of San Marino, California, shot a final-round 1-over-par 71 for a tournament total 3-over-par 283 to go wire-to-wire at the Rolex Girls Junior Championship at The Country Club of Rochester. The win was her first AJGA Invitational trophy, and second victory of 2014.
"It is such a great honor to win such an amazing tournament," Wang said. "I saw Alison Lee win last year and I've always looked up to her."
As a Rolex Girls Junior Championship victor, Wang joined an elite group of past champions, many of whom have gone on to successful LPGA careers, including: Kellee Booth, Leigh Anne Hardin, Aree Song Wongluekiet, Naree Song Wongluekiet, Brittany Lang, Inbee Park, Paula Creamer, Julieta Granada, Morgan Pressel, Esther Choe, Jane Rah, Victoria Tanco, Kimberly Kim, Yueer Cindy Feng and Ariya Jutanugarn.
The Rolex Girls Junior Championship continued the pattern of prestigious women's golf events held at The Country Club of Rochester. Founded in 1895, the club hosted the 1962 U.S. Women's Amateur Championship and twice entertained the U.S. Women's Open Championship (1953, 1973).
As one of the youngest in the field, Wang held the lead during most of the 72-hole event. At the start of the final round Wang led by one stroke. The Rolex Junior All-American started the final round hot, with three birdies (Nos. 3, 5, and 7) to lead by four. The back nine proved more difficult, as Wang bogeyed four holes and Amy Lee of Brea, California birdied Nos. 15 and 16 to cut Wang's lead to one stroke. Lee followed with a bogey on No. 17 which gave Wang a two-stroke cushion on the final hole.
"I wasn't really thinking about the final score, but I did feel a lot of pressure," Wang said. "Especially on the back nine where Amy was catching up and I wasn't playing so well, I just kept telling myself to calm down and play my own game."
Lee finished second with a final-round 1-over-par 71 and tournament total 4-over-par 284. The USC verbal commit and three-time Rolex Junior All-American will play next at the Yani Tseng Invitational presented by The Swinging Skirts. In her final season of junior golf, the Rolex Girls Junior Championship marks Lee's 30th AJGA tournament.
Fellow Rolex Junior All-American and USC verbal commit Hannah O'Sullivan of Paradise Valley, Arizona, finished third in her second top-three AJGA appearance of 2014. She shot a final-round 2-over-par 72 and a tournament total 5-over-par 285.
In her first appearance at the Rolex Girls Junior Championship, Mariel Galdiano of Pearl City, Hawaii, placed fourth with a final-round even-par 70 and a tournament total 8-over-par 288. With a T10 finish earlier this year at the ANNIKA Invitational, she has compiled top-10 finishes in the two largest AJGA female-only Invitationals of 2014.
Cheyenne Knight of Aledo, Texas, shot a final-round 2-under-par 68 and a tournament total 9-over-par 289 to earn fifth. An Alabama verbal commit and Rolex Junior All-American, the Rolex Girls Junior Championship is her third AJGA Invitational in 2014.
For more information about the Rolex Girls Junior Championship, contact AJGA National Headquarters at (770) 868-4200.