Elizabeth Wang Qualifies for U.S. Girl's Junior!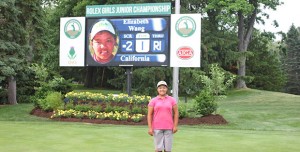 14 year old Elizabeth Wang, continues her hot play coming off a win at last week's Rolex Girl's Championship, as she qualified on Wednesday for the USGA's Girls' Junior Championship. Liz shot a one under par 71 at the Pinnacle Peak Country Club in Scottsdale, Arizona. The Girls' Junior will be played July 21-26, 2014 at Forest Highlands Golf Club in Flagstaff, Arizona. Long time former GPGA student Stephanie Lau also qualified.
Liz will return to Los Angeles today, repack her bags and head to Nashville, TN. for the Rolex Tournament of Champions slated for next week.
U.S. GIRLS' JUNIOR SECTIONAL QUALIFYING RESULTS – 2014
A = Alternate
(a) = amateur
06/18/14
SCOTTSDALE, ARIZ. – PINNACLE PEAK COUNTRY CLUB
Stephanie Lau – FULLERTON, CALIF.   67
Hannah O'Sullivan – PARADISE VALLEY, ARIZ.   67
Abigail Cantwell – SCOTTSDALE, ARIZ.   69
Jiyoon Jang – RANCHO MIRAGE, CALIF.   70
Elizabeth Wang – SAN MARINO, CALIF.   71
A – Muni He – PPLS REPL. OF CHINA   74
A – Morgan Messick – TUCSON, ARIZ.   75