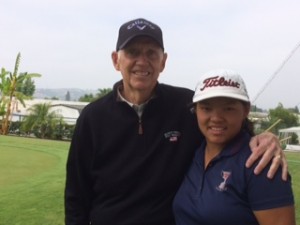 Elizabeth Wang, 14, continue's her run this summer with a hard fought 6th place finish in the Yani Tseng Invitational at The Farms Golf Club, Rancho Santa Fe, CA. Elizabeth shot 70-71-74 (215). Elizabeth weathered a bogey on 3 and a tough double bogey on 9 for a 3 over par 39 on her front side. Another bogey on 12 dampened her spirit's but her intense will and patience led to her first birdie of the day on 16. She then birdied 17 and just missed birdie on 18. She finished with a 74 and a -1 total of 215 to finish in 6th place. Andrea Lee, the #1 ranked player in the U.S., won the event at -12, 71-67-66 (204)
The talented 14 year old (turned 14 in May) bio is:
1st 2014 Rolex Girls Junior Championship
1st 2014 AJGA Junior at River Ridge
1st 2013 AJGA Junior at Diablo Grande
3rd 2013 ClubCorp Mission Hills Desert Junior
4th 2013 Junior All-Star at Cypress Ridge
T6th 2014 Rolex Tournament of Champions
6th 2013 AJGA Junior at River Ridge
T7th 2013 AJGA Junior Challenge
T8th 2012 AJGA Junior Open at The Legends
T9th 2012 AJGA Junior Challenge
T9th 2012 PING Phoenix Junior at ASU Karsten
2013 AJGA Rolex Honorable Mention All-American
Quite a resume for a youngster who just turned 14!
And on top of all of this, Elizabeth has been selected to the Wyndham Cup (West). The Wyndham Cup rosters have been finalized and 40 players from 18 states have committed to represent the East or West at the 25th annual event conducted at Old Sandwich Golf Club in Plymouth, Massachusetts, July 7-10.
The Wyndham Cup brings together 40 of the nation's top juniors in an East-versus-West team match play tournament. With the Mississippi River as the division separating East from West, 10 boys and 10 girls from each side are selected based on the Polo Golf Rankings, which reward top finishes in national junior golf events.