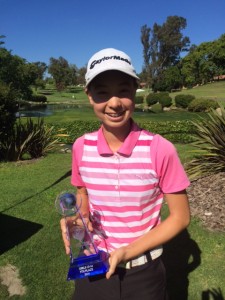 Katherine Muzi, 13, overcame a poor performance in the first round at the BBCN Bank Junior Championship, an AJGA Open Event, to finish in the top 10 in her first "0pen" event. The event was contested July 21-24, 2014 at Yorba Linda CC, Yorba Linda, CA.
The opening round proved problematic for "The Kat" at she struggled to a disappointing 78 that was a result of her making 5 bogies and aa double in her first 10 holes of the tournament. She turned it around and played one over par on the remaining 8 holes. The green speed was quick, running at a 11 stimpmeter reading and the placement of the approach shot, relative to the pin was crucial, to have an opportunity to have a putt at a birdie. Her 78 put her into a tie for 20 after the first round.
Katherine's coach, was present for the back nine of the first round and following lunch, Katherine wanted to go to the putting green and have her coach work with her on her putting. Pinnell, made several rather major changes to her routine and her approach, prior to a putt. They worked together for one and a half hours on her new approach to putting, before retiring for the day.
The second round was more productive as she shot 73 and moved into a tie for 12th place. She started the day a little "shakey" with bogies on her first 3 holes and another one on 7. From 8-18, The Kat played 2 under par, with 3 birdies and a bogie. She told Pinnell she had 4, one putts in a row and only hit 9 green's for the day. Pinnell told her, "that is how you make a score, when you do not have your "A Game". You have to have a good short game and a solid putter."
The final round was pivotal, because Katherine wanted a top 10 finish in the Open event, so a good round was needed to achieve her goal. The round started with 4 par's in a row before she made birdie on 5. An unfortunate bogey on 6, nullified the birdie. She finished the front side with an even par 35. Katherine knew she was needing a solid back side to move into a top 10 finish. She posted 5 par's in a row before making a bogie on 15. Kat, never one to give up, chipped in for birdie on 17 and finished with a birdie on 18. The birdie, birdie finish gave Kat a -1 under par for the back side and a -1 total of 70 for the day, enough to achieve her goal of a top 10 finish!
A "never give up attitude" and a putting lesson goes a long way in a players development at any level of golf.