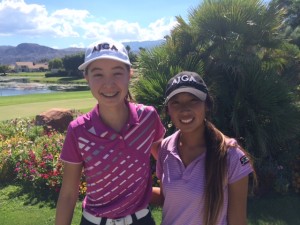 Freshman, Katherine (The Kat) Muzi, and senior, Patricia Wong, teamed up on Wednesday at The Mission Hills Country Club, Palmer Course, to qualify for the 2015 U.S. Women's Amateur Four-Ball Championship. The talented young player's are student's at Walnut High School, Walnut, CA. Katherine is a freshman, while Patricia is a senior and has given a verbal commitment to attend Pepperdine U. in the fall.
The pair teamed up at Mission Hills to fire a 69 in the Four-Ball format that will be played in the first Women's Amateur event to be played on the Pacific Dunes Course at Bandon Dunes Resort in Bandon, Ore., May 9-13, 2015. The USGA has 336 team entries for the inaugural U.S. Women's Amateur Four-Ball. Entries have been submitted from six countries, 42 state and the District of Columbia.
Sectional Qualifying, conducted over 18 holes, will be held at 27 sites in 22 states between August 25, 2014, and March 30, 2015.
A total of 64 two-player teams will compete in the U.S. Women's Amateur Four-Bal, with each playing their own ball throughout the round. Each team's score will be determined using their better-ball score for each hole. After 36 holes of stroke-play competition, the field will be reduced to the low 32 teams for the match-play portion of the championship.
Katherine is a long time student of George Pinnell at the George Pinnell Golf Academy.