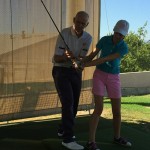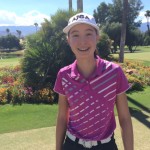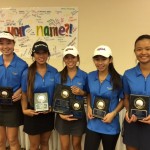 Katherine Muzi has been invited to play in the Junior All-Star Invitational sponsored by NIKEGOLF. The event will be played October 10-13, 2014, at Pumpkin Ridge Golf Club-Ghost Creek in North Plains, Oregon.
Junior All-Star is a prestigious Invitational event for Boys and Girls, ages 12-16. The Kat is excited because this is her first Invitational at an AJGA event.
Registration and a practice round will be held on Friday, October 10. The first round will begin at 8:15 am on Saturday, October 11. The second round will begin at 8:15 on Sunday, October 12 and the final round will be on Monday, October 13.
Live scoring can be seen at www.ajga.org.
The Kat and her Walnut HS teammate's are coming off a coveted victory over Troy HS. The Kat was medalist on the difficult Babe Course at Industry Hills with a solid -2, 34. The final score was Walnut 194 – Troy 197. Walnut is 17-0 this season!
Katherine and her Walnut teammates won the Annual Walnut High School Lady Mustang Golf Tournament on October 6, 2014. Michelle Xu, a freshman was also instrumental in the victory.
Kat finished 3rd in this event, only 2 shot's off the winning score.