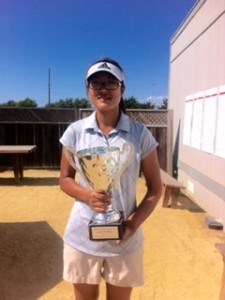 Crystal Wang, a freshman at Diamond Bar High School, Diamond Bar, CA, finished in a tie for second place in the Toyota Tour Cup @ Rancho California, Murrieta, CA.
Crystal continued her improved performance by scoring 74-72-76 (222) in the Toyota Tour event. Crystal has been working hard throughout the summer to reduce her scoring average and it appears that she is finding the right formula according to her coach, George Pinnell.
Leeyen Peralta, an 8th grader shot 80-82-82 (244) to place 31st.
In the Boys Toyota Tour Cup, Newport Laparojkit finished 6th with scores of 73-71-73 (217). Newport is capable of going "low", but mistake's cancels the impact of the 6 birdies and 2 eagles that he posted in the Murrieta event. 9 bogies and a double bogey canceled the birdies and eagles he posted in the 54 hole event.
On the SCPGA Players Tour, Michelle Xu, won the Newport Beach Players Tour Challenge, Newport Beach, CA. Michelle, a freshman at Walnut High School, shot a +3 62 to win by 5 shot's over S. Wong.
At the Garb JDL Fall @ Pico Rivera, Garrick Chiu finished 10th with a 44.
Yi Yi (Doubles) Ouyang, finished in a tie for 3rd place in the Rancho San Joaquin Players Tour Challenge, Irvine, CA. Yi Yi shot 41 and was competing in the Boys Division 9-11.
Patrick Ordonez, shot 80 and finished in a tie for 7th place at the Rio Hondo Players Tour Challenge in Downey, CA. In the Girls 12-14 Division, Sherilyn Villanueva shot 79 and placed 8th. Isabelle San Antonio placed 5th with a 48 in the Girls 9-11.