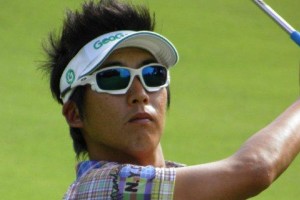 Jay Choi rebounded with a solid showing in the Toshin Golf Tournament on the Japan Golf Tour last week. Jay has been hampered by a lower back issue that has been problematic throughout his career. The Albuquerque, New Mexico, player has had a less than stellar year according to his expectations and former performance in his past four years on the JGTO Tour.
Jay shot 71-67-69-69 (276) to finish in a tie for 31st place. Jay's performance showed improvement in his GIR stat where he hit 72.22% of his greens for the week. His short game and putting improved as supported by the 18 birdies he made over the 72 hole event. Bogey's on par fives (3) continue to dog him, but his coach George Pinnell attributes that to his aggressive play and his course management.
Jay's status for the 2015 season is hanging in the balance of the remaining 7 or 8 events left in the 2014 season. He is currently 88th on the Money List and he need's to be at 60 or better to receive full status for 2015. 60 through 75 on the Money List will receive conditional status.
Jay finished 17th in 2010, 28th in 2011, 31st in 2012 and 66 in 2013. He has one victory on the JGTO Tour. The talented player has always been stronger in the 2nd half of the season. It seems he always starts slow and gains momentum as the season moves forward. The back issues, however, have slowed him down this season.