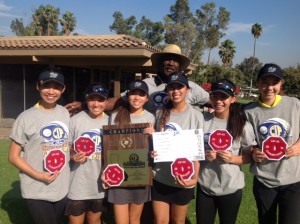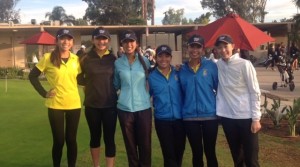 Walnut High School, Walnut, CA, was victorious over 15 high schools in the 2014 Girls Golf Eastern Team Championship! The girls from Walnut had a 27-0 UNDEFEATED record for the 2014 season! Walnut HS (356) defeated San Marino HS (387) and Troy HS was third (389).
The Eastern Division Champions were led by a pair of -2 under par 69's by Patricia Wong and Anabelle Chang. Katherine (The Kat) Muzi shot 71, even par along with Alison Chang. Sister's, Serena and Megan Hou shot 76 and 79 respectively to round out the scoring.
There are four Division in the CIF Southern Section. Next week, Walnut HS, Eastern Division Champions will face off with the Central Division Champions, Northern Division Champions and the Southern Division Champions at Western Hills CC, Chino, CA, to determine who will advance to the Regional State Qualifier. Each Division will send the top three team's to vie for a spot in the Regional State Qualifier.
As a point of interest, five of the top six girls have tie's to the George Pinnell Golf Academy.