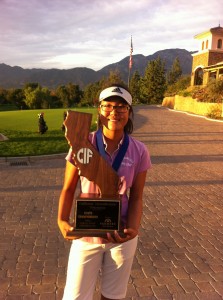 Crystal Wang finished 6th in the Individual Girls CIF State Championship as Crystal and her teammates won the CIF Team Championship. Crystal shot a solid 74 in the finals at Red Hill CC.
Crystal, a freshman, caught fire this season and at one point shot 68-70-70-72 in a run of four events. Crystal has always been a dedicated hard worker but according to her coach George Pinnell, Crystal did not have her heart in the game. Although she practiced daily, she didn't have the "love of the game" that is necessary to be a champion. As the season wore on and she played more with former GPGA student, Bethany Wu (ranked # 3 in U.S.), and a teammate at Diamond Bar, did she realize that her contribution to the team was an important element for Diamond Bar to have a shot at winning the State Championship. Crystal's attitude slowly changed and she was practicing with a purpose and was mindful of what might lie ahead. According to Pinnell and Crystal's mother, she began to enjoy "the process of growing her game" and even began to walk around with a smile on her face.
This 14 year old freshman has the potential to perform will on the AJGA Tour in 2015. College coach's are quickly adding her name to their radar charts.
Congratulations to Crystal and the entire Diamond Bar High School California State Champions!