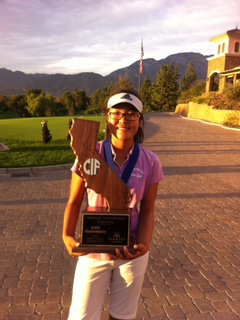 Crystal Wang a freshman at Diamond Bar High School shot 76-80 (156) to finish in a tie for eighth place in the Toyota Tour Cup at Carlton Oaks Golf Club. Crystal was disappointed in her performance and felt she should have scored better. In the first round, Crystal played hole's 1-12 at 1 over par. She played the last 6 hole's in 3 over par with a birdie and 4 bogies. In her second round a double bogie on 9 and 3 bogies and a birdie on the front nine gave her a +4. The back nine started well as she played -1 from 10 through 13. Trouble on 14 through 18 caused Crystal to lose 5 shot's on her finishing hole's. It is safe to say that "finishing" a round is super important and that player's have to grind to overcome fatigue in the closing holes. The leg's can become tired, causing the player to use only the upper body and that will result in errant shots caused by not using the lower body.
Congratulations to Crystal for another top 10 showing on the Toyota Tour!
At the Hansen Dam Spring event, Mylan Hirata posted an 86 (+14) to finish in 7th place in the girls 12-13 Division. Mylan was not happy with her putting as she used 40 strokes in her 86. Mylan's ball striking is improving and but she need's to strengthen her short game and putting. Leeyen Peralta finished in 3rd place with a solid 80 while Sherilyn Villanueva finished in a tie for 5th place with an 84.
Leeyen Peralta secured 1st place in the Wilson Spring event at Griffith Park Golf Club. Leeyen posted a +4, 78 for the victory in the Girls 12-13 Division.
Sherilyn Villanueva finished in 2nd place with a 77 in the Rio Hondo Spring event.
In her very first competitive tournament, Nicole Zhang, 11, finished in 4th place in the JDL Girls 11 & under at the JDL@Rancho Durarte. Garrick Chiu shot a +9, 40 to finish in a tie for 4th place at the JDL@Rancho Duarte.
In the Girls Division 14-18, Michelle Xu, shot 83 and finished in 9th place.
Congratulations for the effort exhibited by all players!