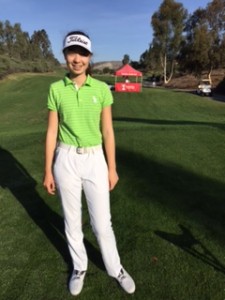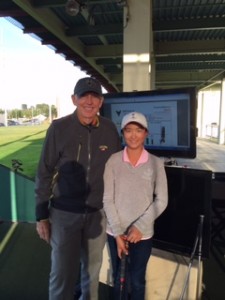 The Kat (Katherine) Muzi, Rose Zhang and Matthew Huo all performed well at the Toyota Tour Cup event at CrossCreek. Weather played a factor in this week's TTC event. Saturday, produced cold temperature's with wind that made condition's difficult for the field. The Kat shot 78 in the first round but rebounded on Sunday with a solid 74 (+3). Kat moved from 12th place after the first day to finish in a tie for 4th place. Kat was pleased with her performance using a new set of clubs, but thought she should have done better in the opening round.
Rose Zhang, a sixth grader, and youngest in the field told her coach, George Pinnell, that the opening round was "terrible" and said that, "it just wasn't my day." The dispirited Rose promised to do better in the final round. Staying true to her commitment, Rose fired a 72 that was the second best round of the day. Rose finished in 12th place and was satisfied with her showing, especially in her final round.
Crystal Wang struggled a little, finishing in 17th place with scores of 70-80. Michelle Xu, a freshman at Walnut HS, Walnut, CA., shot 83-79 to finish in a tie for 20th place. Michelle has been working hard rebuilding her swing and is beginning to show the progress of those changes.
In the Boys Division, Matthew Huo, shot a pair of 75's to finish in a tie for 11th place. Matthew is a freshman and recently returned to his long time coach, George Pinnell. According to Pinnell, "Matthew has the potential to be a top player on the national scene if he continues his dedication and positive mindset."
At Meadowlark GC, Huntington Beach, CA., Jomar Veloso shot 88 and finished tied for 19th in the Boys 12-14 Division. Sherilyn Villanueva finished first in the Girls 12-13 Division with a 77, while her friend, Leeyen Peralta finished 2nd with a 79.
At the El Prado Spring event, Jomar Veloso shot 94 and finished 27th in the Boys 12-14 Division. Leeyen Peralta won the Girls 12-13 Division with a 78 while Sherilyn Villanueva, finished 3rd with an 81. Mylan Hirata shot 86 to finish in 7th place. Athan Yang finished 13th in the Boys 9-11 Division with a 48.
Gabby Kano, won again this week in the Girls 9-11 Division. Gabby shot 44 in the 9 hole event to win by 2 shots.
Garrick Chiu finished in 10th place in JDL action at Monterey Park GC. Garrick shot 41 in the 9 hole event.