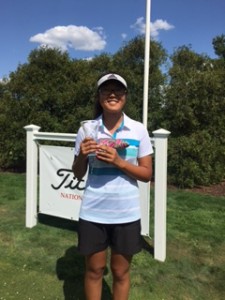 Crystal Wang, 14, placed 3rd in the All-Star at Forsgate om Monroe Township, N.J. The event was held May 1-3, 2015. Crystal is a freshman at Diamond Bar HS, where she was a key player in Diamond Bar winning the Girls California State High School 2014 Championship. Crystal struggled on the first day with a 76. She had a rough stretch of holes (5-7) where she made bogey, double bogey and another bogey on 7, for a 40 on her front nine. The talented freshman, rebounded and shot one over par on 8 through 18. That comeback set the tone for her second and final round on Sunday. Crystal shot 1 over on her front side with a birdie and 2 bogies. She made 2 birdies and 2 bogies on the back side for a solid 72 and the day's best round that earned Crystal the coveted Scotty Cameron putter cover for the best score in the final round. According to her coach, George Pinnell, "Crystal has been improving her play and has been working hard on learning how to finish a round. I believe we will be hearing much more from this 14 year old."
In SCPGA action at the La Purisma Toyota Tour Cup qualifier at Empire Lakes GC, Yugo Koshiishi shot 86 and placed 46th. At the Lakewood Spring event, Jomar Veloso, shot 87 and finished in a tie for 20th.
At the David L Baker Spring event, Athan Yang placed 16th with a 37 in the Boys 9-11 Division. Leeyen Peralta won the Girls 12-13 Division with a +2 over par 64 while Sherilyn Villanueva shot 67 and placed 3rd. Mylan Hirata shot 71 and placed 7th.
Congratulations to Crystal Wang and all of the juniors who competed in events in Southern California and around the United States.