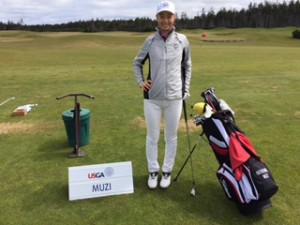 Michelle Xu, tied for 1st place at the Scholl Canyon Spring event with a +5 (65).  Michelle had a birdie and 6 bogies in her round.  The young player from Walnut, CA., has been rebuilding her swing to get the club more on plane in the downswing.  Look's like she is making good progress on her ball striking.
Umbie (Umbert) Caseres, placed 21st in the Boys 12-14 Division.  Umbie had a career best 3 birdies in his 76.  Unfortunately, Umbie made a 12 on the par 4, 13th hole to negate the 3 birdies he made.  Experience will help the young player to cut down on his mistakes.
In the Girls 12-13 Division, Leeyen Peralta finished 4th with a +9 (69).
At Rancho San Joaquin, Sherilyn Villanueva shot 86 and finished 5th.
Katherine (The Kat) Muzi teamed up with Patricia Wong at the U.S. Women's Amateur Four-Ball Championship.  The event is being held at Bandon Dunes Golf Resort, Bandon, Ore.  Kat and Patricia finished the 2 day stroke play in 10th place with a Four-Ball score of -5, to advance to the Match Play.  32 team's out of 64 advanced to the match play.  The two young player's were matched against two veteran's in Meghan Stasi and Dawn Woodard.  The experienced player's defeated Kat and Patricia 4 & 3.  Woodward has daughter's older than Kat and Patricia!  Experience is always difficult to defeat.  The 36 and 40 year old team won four holes in an early five-hole stretch, then halved seven consecutive holes to close out the match on 15.  Kat and Patricia learned a lot from playing against the two veteran's, Stasi and Woodward.