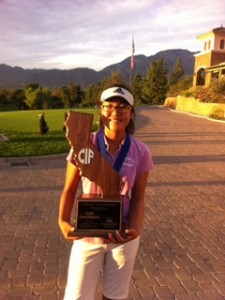 Crystal Wang finished in 3rd place at the GolfWeek West Coast Junior Invitational this weekend in Mesa, Arizona. Crystal, a freshman at Diamond Bar, CA, HS, shot 74-73 (147) on the par 73, Mesa Country Club. Ashley Kim shot 71-73 (144) to win the event while Hannah Ko shot 76-80 (146) for 2nd place.
Crystal told her coach, George Pinnell, that she was super unhappy with her performance over the weekend. "I made too many mistake's in my first round with a double bogey and 4 bogies that negated my 5 birdies. In the second round, I made 4 birdies and 4 bogies for my round of even par. Again, too many mistake's. I need to make better decision's that will lead to fewer mistake's that will improve my scoring. I did not like my finish on the first day with bogies on 17 and 18. I will be better."
Crystal is currently ranked 182 in the U.S. by Junior Golf Scoreboard.
Ali Morallos won the Girls Toyota Tour Cup at La Purisima Golf Course, with round's of 77-78 (155). Michelle Xu, finished in a tie for 24th.
In JDL action, Garrick Chiu, won the Boys 12 & over with a +2 over par 29 at the Heartwell Golf Course, Long Beach, CA.