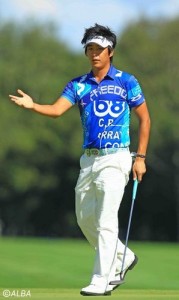 Jay Choi is showing sign's of the Jay Choi that won NCAA All-American honor's at University of New Mexico and finished 17th on the Japan Golf Tour Money List as a rookie. Jay shot 68-67-70-70 (275) to finish at -9 under par and a T11 finish. This event was important to the 5 year veteran who lost his playing privilege's last year when he did not finish strong enough on the Money List to retain his status.
Jay had to qualify for the PGA Championship to be able to compete in this prestigious event. He not only qualified, but his T11 finish will allow him to be in the "re-shuffle" that should give him more start's on the JGTO.
It is good to see Jay back in position on the leader board, and we all look forward to his future success.