Mylan Hirata 5th at Memorial Day Cup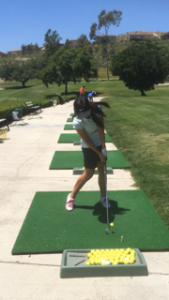 Mylan Hirata finished in 5th place after shooting 80-84 (164) in the Junior Golf Open Tour at Empire Lakes Golf Club. The 5th place finish was disappointing to Hirata who let her emotions get in the way and cost her a likely victory in the Girls 12-14 Division. Mylan's 164 was only 3 shots off the winning score of 161, by Elison Alaan.
Mylan's opening round, consisted of 4 birdies, 5 bogies, 2 doubles and a triple bogey for a score of 80. Her second round was made up of 8 bogies and 2 doubles. The talented young player from La Habra Heights, CA., is learning how difficult it is to score well when a bogie or higher has such a negative affect on her ability to play her next shot. Team Hirata is working toward the day when her emotions are under control and she is able to recognize that mistakes are a natural part of golf and that reaction management is a must to perform at a higher level.
Mylan's coach, George Pinnell, is super high on her potential talent, but it will be the ultimate responsibility for Mylan to make the necessary changes that will allow her to perform at the next level