Zhang and Huo Compete in Toyota Tour Cup at Morongo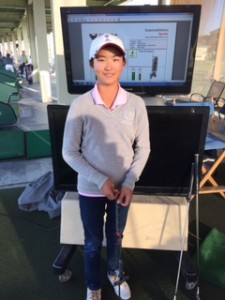 Rose Zhang, a 6th grader, and the youngest player on the Toyota Tour, finished in a tie for 20th place.  The young player from Irvine, CA, shot 78-79 (157).  Rose was not happy with her performance and immediately contacted her coach to let him know she made some "horrid mistakes and put the ball into the wrong place on her approach shot's to the green."  Rose said, " there were strong wind's and the temperature was around 95 degree's."  The asked George, "if we could go over some thing's that cost her stroke's and to stableize her swing in her next lesson."  Pretty head's up thinking for a 6th grader!
Matt Huo, a freshman, shot 81-86 (157) and finished in a tie for 28th place.  Matthew improved his second day score by playing -1 under par on 9 thru 18 with an eagle on the 9th hole.  Double bogies on 7 and 8 derailed his effort to post a really good score in his final round.  In his first round it would appear that his putter was cold.  Matthew made 10 bogies and did not make a birdie while posting an 81.