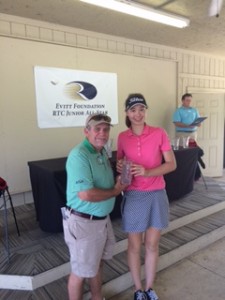 Katherine Muzi, finished in second place in the AJGA Evitt Foundation RTC Junior ALL-STAR at WindStone Golf Club, Ringgold, Georgia. Jenny Bae from Lawrenceville, GA, trailed Kat by 4 strokes after posting a +3, 38 on the first nine of the final round. Kat shot a -1, 34. Kat had difficulty playing with the lead and made bogies on 10,12 and 13, while Jenny played -3 under par from 9-18 to secure the victory. The Junior ALL-STAR if for junior's age 12-15.
Kat played well in the event and is "learning how to win at the AJGA level. In her first ever start on the AGJA circuit, Kat needed par on the final hole of the 54 hole event in Michigan to win her first AJGA event. The inexperience raised it's head when Kat made bogey and then lost in a playoff.
Learning to win is a process that take's time and a lot of patience. A player's goal should be to put themselves into a position where they have an opportunity to win. If the player is able to have those opportunities, they will eventually win. Every player that has won at any level has gone through this process.
Meanwhile, in Tempe, Arizona, Crystal Wang was competing in the PING Phoenix Junior at ASU Karsten Golf Course. Crystal posted 78 in her first round and was not happy with her performance. After the round, she went to the range and worked on her shot making and putting. The effort showed up in her second and third round where she posted a pair of 73's and finished in a tie for eighth place. Crystal's 3 round's were without a birdie, which is a rare happening for an 8th place finish. The PING Phoenix included player's age 12-18.
Katherine and Crystal will continue to place themselves in a position to have the opportunity to win and it is only a matter of time until both player's win at the AJGA level.