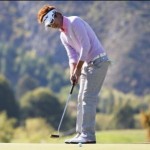 Jay Choi got off to a slow start in the ISPS Global Challenge with a 1 over par 71 in the 54 hole event on the Japanese Challenge Tour. His 1st round score left him in a tie for 55th place going into the 2nd round. Jay's first round consisted of 4 birdies and 5 bogies.
The talented former NCAA All-American got off to a good start in his second round with a birdie on 3, a bogey on five and then he picked up 3 shot's with an eagle on 6 and a birdie on 7 to finish the front side with a 33 (-3). His back side was a mixed bag of 3 birdies and 3 bogies, for an even par 35 to go with his 33 to finish with a 68. Jay moved up 50 places with his 68 and after the 2nd round, found himself in 5th place.
In the final round, Jay had 3 birdies and 2 bogies for a -1 under par 35 on his front 9. He made bogey on the 10th hole and then lit it up by making birdies on 11, 13, 15, 16 and 17 to fire a -4, 31 on the inward 9 to post a 66 and secure 2nd place.
After the round he communicated to his coach, George Pinnell, "that I was just trying to have as much fun as possible playing golf after a difficult year in 2014." Look's like he is achieving that goal!