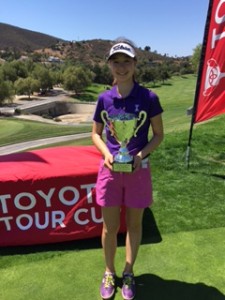 Katherine Muzi, fired a 3rd and final round 66 to finish 2nd in the Toyota Tour Cup event at Twin Oaks Golf Course. Kat finished second to J Mangrobang, who shot 67-74-72 (213). Kat posted rounds of 75-74-66 (215). Kat has been working to improve her course management and to limit mistake's. Her 66 consisted of and eagle on the par 5, second hole and birdies on 10, 13, 16 and 18. Katherine's coach, George Pinnell has been stressing the need to "clean up" her score card's by eliminating bogies that "devalue" the birdies and eagles she might make. Kat made an eagle and eight birdies to offset the 7 bogies and one lone double bogey. She took care of her golf ball in the third round, by posting a bogey free scorecard.
In the Boys Toyota Tour Cup, Matthew Huo finished in a tie for 37th place with rounds of 78-77-71 (226). Matthew made 6 birdies but they were off set by 14 bogies and 1 double bogey. Matthew is also working to "clean up" his score card to make his birdies more meaningful.
At the Shandin Hills Summer event, Mylan Hirata posted an 83 to finish in 6th place in the
Girls 14-18 division.
At the Dad Miller Summer event, Mylan Hirata posted 82 ti finish in a tie for 4th place.
Gabby Kano finished 3rd in the Ping 2-Day event at Olivas Links in the 9-11 Girls division.
In JDL action at Pico Rivera, Nicole Zhang shot a 36 and has passed the SCPGA's requirement to score +8 or less in three events within one calendar year. Yay! Garrick Chiu finished in a tie for 6th place with a +9, 38.
At Manhattan Beach, Garrick Chiu, finished in 2nd place with a +6, 38 to round out this week's JDL event's.
Crystal Wang is playing in Ohio this week in an AJGA event while Andrea Han is in Kansas playing an AJGA event.
Congratulations to all of the participants who played on the SCPGA Junior Tour this week.