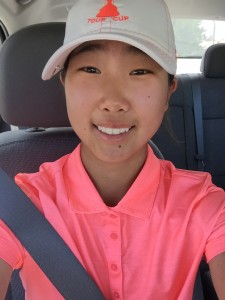 Andrea Han will be a senior this fall and is continuing her quest to improve her golf so she will be ready for the next level, college golf. Andrea had a great week in Kansas, where she finished 7th in the AJGA Kansas Junior at Buffalo Dunes GC. Andrea shot 78-74-76 (228) to earn her top 10 finish.
The back side of Buffalo Dunes proved to play a little easier for Andrea as she scored a cumulative +3 over par. She had 4 birdies and 5 bogies plus a double bogey. Her front side cumulative score was +9 over par. Andrea had 2 birdies accompanied by 11 bogies.
Andrea has been working hard this summer to advance her game, according to her coach, George Pinnell. Andrea has been working hard with Pinnell's TrackMan to help her have a better understanding of her ball flight and what cause's the various shot pattern's she produce's. She is also working with a trainer to increase her strength and flexibility to help prevent injury.
Congratulations on a great week in Kansas, Andrea!