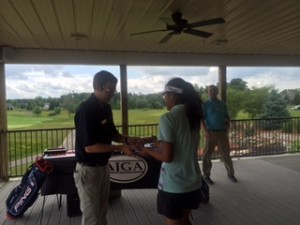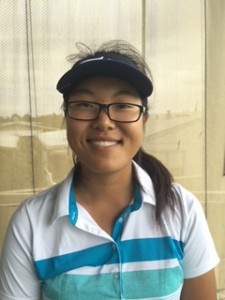 Crystal Wang, a 14 year old from Diamond Bar, CA., fired the low round of the final day of the AJGA's Junior-All-Star at Fox Meadow. The 54 hole event was played in Medina, Ohio, and ended today.
Crystal, who played on the 2014 California State High School championship team, shot 80-73-71 (224) to finish in a tie for 4th place. The talented 14 year old shot -1 (35) on her back 9 today. She was not happy because she made bogy on her 54th hole and did not finish as well as she wanted. But for the opening round 80 in the first round, Crystal played the final 36 holes in even par. The 2nd round was played under rain, making her 73 even that more impressive. According to her coach, George Pinnell, "we have to get Crystal jump started in the first round of these national events. She has been making a habit out of getting off to a slow start in her first round and then playing "catch-up" in her final 2 round's." With a faster start, Crystal was in a position to win 2 or maybe 3 event's this summer.
Crystal was happy to get the low round on the final day, because that won her the coveted Scotty Cameron Putter Cover.
Congratulations to Crystal and her solid comeback in the final 36 holes.