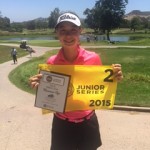 Katherine (The Kat) Muzi, shot 75-74-72 (221) in the PGA Junior Series at Carlton Oaks Country Club. Kat's score of 221 secured 2nd place in the Girls 12-14 division and 6th overall. Kat played solid golf on the back side of Carlton Oaks. She was even par with 5 birdies and 5 bogies over the 3 day event (54 holes). The front side played more difficult for the 14 year old, where she had only 2 birdies, 5 bogies and a double bogey.
Kat played the par 3's at -1 (2.92 ave) for the 3 day's and the par 5's at -1 (4.92 ave) for the 3 day's. Her performance on the par 4's was +7 (ave 4.23).
Kat is continuing her good play and is preparing for the USGA Girl's Qualifying at South Hills CC on June 29, 2015.