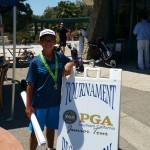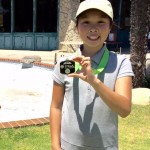 Isabella (Bella) Yang, a 10 year old from Chino Hills, CA., won the JDL @ Newport Beach with a +5 (34). Bella posted a 34 to win by 6 shot's over T. Lapradez, who shot 40 in the Girls 9-11 division. Bella made bogies on her first 3 holes before settling down to shoot +2 over par on the remaining 5 hole's. Bella's performance was welcomed by her parent's and coach, George Pinnell. Bella has recently started to compete on the SCPGA Junior Tour. Someone to watch in the future.
David Cho, a 10 year old from Diamond Bar, CA., finished in a tie for 2nd place in the Boys 9-11 division. David shot 35 (+6) and was 2 shot's behind the winner, Eathan Yang. David was cruising along at one over par thru 4 hole's before making bogies on 5, 6 and a triple bogey on 7. After the triple bogey, David made par's on the remaining 2 hole's.
Earlier in the week, Nicole Zhang, passed the requirement to score +9 or less in 3 JDL events within a calendar year, to graduate to the Junior Tour.
Mylan Hirata, shot 86 and placed 14th in the Junior World Qualifier at Green River GC. Mylan played in the Girls 13-14 division. Mylan also played in the Mountain Meadows Summer Championship where she shot an 88 and finished 6th in the Girls 14-18 division while Michelle Xu shot an 84 and finished in a tie for 2nd place.
Jomar Veloso, shot 94 at Green River for the Junior World Qualifier.