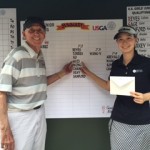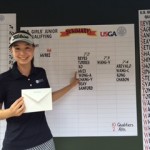 Katherine Muzi, 14, from Walnut, CA., qualified for the 2015 U.S. Girls' Championship to be played July 20-25, at Tulsa Country Club in Tulsa, Oklahoma. Katherine shot an even par 72 at South Hills CC, West Covina, CA to earn her way into the Girls" National Championship.
Kat played her round while under the weather with a fever of 101 degree's. The weather was hot (98 degree's) with high humidity. The talented young player got it to -3 at one point in her round and played most of the day at -2. Kat's fatigue set in as she made bogey on 17 and 18 to post 72. The low score of the day went to Alyaa Abdulghany, Newport Beach, who shot 66 followed by Marni Murez, Manhattan Beach, CA., who shot 68. The bogey's required that Kat remain at the site to see if a playoff would be necessary to decide who the 10 qualifier's and 2 alternate's would be. The 8 girl's who were tied at 72 were relieved to see that the final group's score's were not good enough to "bump" them out of the top 10 and into a playoff.
Other's who qualified at South Hills CC were: Ya-Chun Chang, Chinese Taipei, Hannah Ko, Anaheim, CA, Calista Reyes, San Diego, CA, Karah Sanford, Escondido, CA, Brook Seay, Rancho Santa Fe. CA, Kasey Torres, Los Angeles, CA and Ada Wong, San Marino, CA.
The first alternate, Vanessa Wang, Rowland Heights, CA, shot 73. The second alternate was determined by a 3 hole playoff and was won by Sofia Chabon, Philippines.
Crystal Wang, Diamond Bar, CA, was involved in the playoff. Crystal played solid golf throughout her round until hole 16, where she hit a ball out of bound's and made a triple bogey. Her 74 put her into the playoff. A double bogey on 16 (instead of triple) would have put Crystal into the top 10 and earned her a trip to Tulsa.
Of the 80 player's in the qualifier, Katherine's and Crystal's coach, George Pinnell has coached/instructed 10 (12.5%) girl's who were in the field. Katherine and Patricia
Wong qualified and played in the 2015 U.S. Women's Amateur Four Ball Championship at Bandon Dunes Golf Resort. Kat and Patricia advanced into match play where they were defeated by a team that had daughter's, Kat and Patricia's age. True veteran's of amateur competition.
Pinnell was Kristen Park's coach (7 year's) when she won the 2007 U.S. Girls' Championship at age 14! Kristen defeated Ayaka Kaneko, 4&3 at Tacoma CC, Lakewood, WA. I
The format for the Championship is 36 holes of stroke play to reduce the field to 64 player's to compete in match play. The winner will have survived the stroke play, First round match play, second and third rounds of match play (same day), quarter and semi final rounds and the final is a difficult 36 hole's of match play to determine the victor.
Congratulation's to Kat and all of the qualifier's at South Hill's and those young player's who have qualified at the 30 or more site's within the United States!