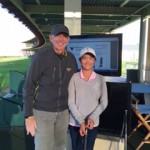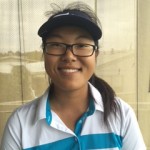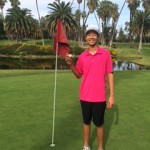 Rose Zhang continue's to make her mark on junior golf in Southern California. The 12 year old from Irvine, CA., finished in a tie for 3rd place in the Southern California Junior Tour Toyota Tour Cup at MountainGate Country Club.
Rose shot 74-76 (150) in the ONE DAY 36 hole event. Rose made 1 birdie, 13 par's and 3 bogey's in her first 18 hole's. In her second round of the day, she shot 76 with a birdie, 12 par's and 5 bogey's on the hilly course with fast green's.
After the round she expressed her thought's to her coach George Pinnell. Pinnell had congratulated her on a strong first round before he knew what her second round score was. She said, "thank you, but I did bad on the second round though. (she was +4!) I kept on 3 putting and it was very tiring. I didn't improve on the second round and I shot 4 over." Pinnell encouraged her by explaining that her score was excellent under the condition's and her age and that she would probably move up the leader board when all of the girl's finish and post their second round score's.
After the final score's were posted, Rose moved to a tie for 3rd place and Pinnell asked Rose, "do you feel a little better with the move up to 3rd place?" Her response to Pinnell's question was classic Rose. "A little, but I could have been 3rd alone if my score was a shot lower. My distance is way short (playing against 12-18 year old girls) and I have to play 190 yards to the green on some of the hole's. Also, I 3 putted three hole's and that makes me kind of shameful. But overall, I tried, I just didn't grip on to 3rd place by myself."
Pinnell is confident that the young charge from Irvine will continue to have an impact on golf for a long time.
Crystal Wang shot a solid 74 in her first round but slipped to 82 in her second round to finish at 156 and in 15th place. Crystal was not satisfied and was disappointed in her performance at MountainGate. She has been working hard to put back-to-back round's together as has struggled a bit to achieve that goal. Pinnell said, "Crystal has the potential to be a big time player in the future and that she in the process of learning how to make improvement's in her performance." Crystal was instrumental in Diamond Bar HS, CA., winning the California State Championship in 2014. Crystal will turn 15 next month.
In the Boys TOC, Matthew Huo, opened with a 74 but backed it with a 76 to finish in a tie for 18th place at 152. Matthew told Pinnell, "I putted pretty well but my iron's were and driver were off a little. Matthew who will be a sophomore this fall hit's his driver an average of 285 yard's. Pinnell is working with him to "throttle down" a little to develop a "go to swing" that will produce a more accurate shot's under pressure condition's. "A tough task for a 15 year old boy," Pinnell said.
Pinnell went on to say, "it is hard to convince these young player's that there will be day's that are better than other's and they must be patient to be able to move to the next level. With today's computer's, smart phone's and all of the apps available for them, the young people are looking for instant gratification through immediate success in golf. The real world does not work that way and to be successful, one has to experience and understand failure, and then success may come your way. Success is a process."