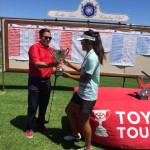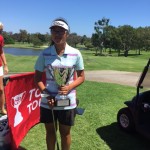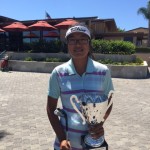 Crystal Wang, Diamond Bar, CA, shot a solid -2 under par in the third and final round to win the TTC @ Santa Ana CC. Crystal's 77-71-70 (218) won the event by 4 shot's over Yoonju Shin's 74-76-72 (222).
Crystal, a sophomore, got off to a slow start in the first day with a score of 77. Crystal was even par through 12 hole's in her first round, before making bogies on 13,14, 16 and a double on 18 for a 5 over par 77.
In her second round she started the day with par's on hole's 1-5 before making a bogey on 6 and par's on 7 and 8. The talented player then made consecutive birdies on 9, 10 and 11. Crystal played the final 12 hole's in -2 under par, for a -1 under 71.
In her closing round, Crystal started by making a par and a bogey on 1 and 2 before "finishing" the round with 3 birdies and 13 par's for a -2 under par 70. She shot -3 under par for the final 16 hole's.
The final round was critical for the up and coming player. Her coach, George Pinnell, has been working with Crystal on learning how to "finish" a round by being mentally strong and "grinding" out the last few hole's in every round of a tournament. Pinnell has told Crystal, "to keep putting yourself in the position, to have chance to win, and it will happen for you. If a player is consistently in a good position, they will have many opportunities to win." Apparently, Crystal took the message to heart.