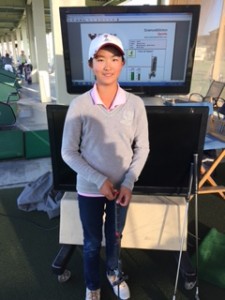 12 year old, Rose Zhang from Irvine, California, shot 73-73-71 (217) to finish in a tie for 7th place in the Junior World Championships in the Girls 11-12 age division. The division was played at Bernardo Heights Country Club. The event is truly a world event with players traveling from all over the world to compete in the Junior World.
In the 54 hole event, Rose had 8 birdies 39 par's, 7 bogey's and a lone double bogey in the final round. Rose had 4 birdies, 1 bogey in her final round score of -1 (71). Rose was disappointed with her tie for 7th place because she wanted to get 7th place by herself, siting the double as the reason for her tie.
Rose's play this week is another confirmation that she has the talent and game to compete in major junior event's in the coming year's.
In the Boys 15-17 division, 15 year old Derek Kim missed the cut with 84-85-77 (246). The Boys and Girls 15-17 division was played at Torrey Pines Golf Course.
In the Girls 15-17 division, Andrea Han missed the cut with round's of 82-81-82 (245).