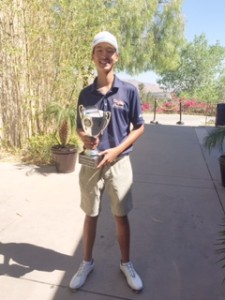 14 year old, Matthew Huo, Corona, CA, shot a solid -5 under par 67 to qualify for the LA Junior Open at Hillcrest CC this week. Matthew had tournament's scheduled for this week so he will use the "star's" he earned to enter a future AJGA event. Matthew wanted to play but he also wanted to honor his commitment to the tournament's he had previously scheduled. Matthew shot 34-33 (67) at the Los Amigos Golf Course.
Eleven year old, Jimmy Gao, continued his good play this summer with a tie for second place at the Newport Beach Summer Championship in Newport Beach, California. Jimmy shot a +3 32 in the 9 hole event.
Mylan Hirata finished in 12th place with a 70, in the 18 hole Girls 14-18 Division.
In JDL action at Heartwell Golf Course, Long Beach, CA, David Cho shot a +9 over par 36 to finish in a tie for 13th place.
In the Brookside Summer Championship, Athan Yang shot a 43 to finish in 6th place. Athan, an 11 year old, told his coach, George Pinnell, "that he hit 5 green's in regulation and would have won if he could have putted better."
Mylan Hirata struggled at Brookside with a 90 in the Girls 14-18 Division. "Mylan is 13 and her skill set will improve with more experience in tournament play, according to her coach," George Pinnell.
Jimmy Gao finished in 6th place at the Dad Miller Summer Championship. Jimmyshot a +6, 41 and was not satisfied with his performance. Andrew Herong Wang shot 42 and finished in 7th place in the Boys 9-11 Division.