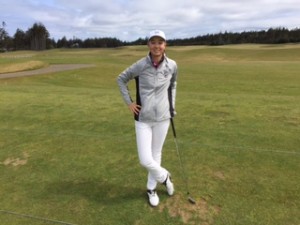 Katherine Muzi (the Kat), shot 77-71-72 (220) in the Yang Foundation AJGA Junior at Wood Ranch in Simi Valley, CA. Kat got off to a good start in her opening 9 hole's. She posted an even par 36 that consisted of a birdie and a bogey. The back nine proved to be her nemesis as she was a cumulative +3 over par. Her front side was a cumulative +1 over par for the three day event. The 15th, par 5 proved to be the turning point in Kat's chance's to win the tournament. The young, talented player played the 15th in +4 for three round's. The 15th and her double bogey on the first day on the 10th hole cost her the opportunity to be in position to have a run at winning this event.
Kat told her coach, that the hole did not set up well for her off of the tee and that she missed the fairway all three day's. Her coach stated that this is a common phenomina, even on tour. There are hole's that player's have difficulty in seeing the correct "line's", causing bogey's or higher. Kat missed first place by 5 shot's but she was back on the course early the following day to prepare for this week's AJGA event at Hillcrest Country Club in Los Angeles, CA.
One of Coach Pinnell's student's, arranged a practice round with the wife of former California Governor, Grey Davis. Kat shot 73 and credited Ms. Davis with helping her with the finer point's of playing Hillcrest CC.