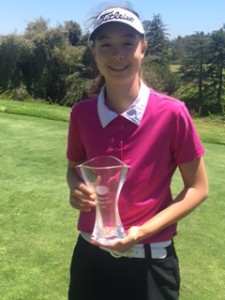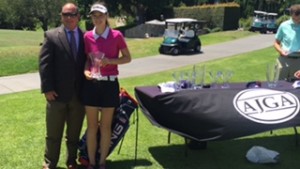 Katherine "The Kat" Muzi, played the second and third round in -4 under par total to secure a solid 2nd place finish in the AJGA LA Open Junior Open. The 54 hole tournament was played at Hillcrest Country Club, Los Angeles, CA.
The first day the players had to endure 36 holes. Kat got off to a slow start with an opening round +4 (75). Kat was "steamed" after her 75 and vowed to herself to improve in the afternoon round. Improve she did! The 14 year old player fired a 69 and moved into third place going into today's final round.
Kat, made par on her first 5 hole's but made a bogey on number 6. Again, her temperature got a little warm and she responded with two birdies in a row on 7 and 8. A par on 9 gave her a -1 on the front 9. A birdie on 10 was followed by a bogey at 12. The Kat responded again with a birdie on 13 and then made 5 par's in a row to finish the day with another 69.
Paphangkorn Tavatanakit, Bankok, Thailand, fired 68-71-67 (206) to win the prestigious LA Junior Open.
George Pinnell, Katherine's coach, was happy not only for her 2nd place finish, he was happier about how she responded throughout the event while under pressure. Kat has had an issue with "finishing" event's and Kat and Pinnell have been working hard to overcome her "backing off" while under pressure. Look's like Kat is a fast learner.
Katherine finished in 6th place last week at The Yang Foundation AJGA event at Wood Ranch. Now with her stellar play at HillCrest she has a top ten and a top 5 finish within a week. Needless to say, she is improving her game to be the "best that she can become."
14 year old (soon to be 15), Crystal Wang, finished in a tie for 12th place with round's of 79-75-75 (229). Crystal told her coach, George Pinnell, that she was not happy with her iron play today. "I pulled my short iron's and faded my longer iron's. Yesterday it was my driver, and after we talked last night, it was better."
Katherine will be a sophomore at Walnut HS, Walnut, CA, while Crystal will be a sophomore at Diamond Bar HS, Diamond Bar, CA. Crystal was instrumental in Diamond Bar HS winning the California State CIF Girls Championship last fall.
Pinnell is confident that both player's will have a bright future in junior and collegiate golf.