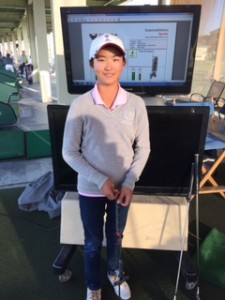 12 year old Rose Zhang shot 76-71 (147) to finish in a tie for 8th place in the TTC event at Oak Valley GC. The event was played in 100 to 106 degree weather in Beaumont, CA. Rose told her coach George Pinnell, "I was not sharp in the first round. I had alignment issue's with my iron's and I did not have a good feel with my putter." On the first day, Rose had 14 par's and 4 bogey's for what she termed, "a disappointing day without any birdies." In her final round, Rose got off to a good start with a birdie on the second hole and another one on the par 4, eighth hole. She fired a -2, 34 going into the back nine. The talented young player made her first bogey on the par 3, eleventh hole. Rose made her second bogey of the day on the par 4, fifteenth hole. She made her third birdie of the day on the sixteenth hole and made par's on 17 and 18 for a +1, 37 on the back nine.
The -1 (71) was a good feeling for Rose after her opening round of 76. Rose has competed in 6 Toyota Tour Cup event's and has had 4 top 12's. It is remarkable that Rose at 12 year's old has posted her record against player's age 12-18. The Toyota Tour Cup has performance based entry requirement unlike the SCPGA Junior Players Tour.
Andrea Han shot 74-82 (156) and finished in 23rd place while Mylan Hirata shot 84-83 (167) and finished 33rd.