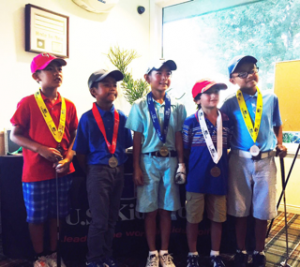 Eight year old Andy Yu, fired a 37 in the U.S. Kids tournament at Goose Creek Golf Club to win by 2 shot's. Andy has been working hard on his game by practicing as much as possible. The summer is ending and now Andy will have to balance his practice time and his academic requirements to do well in both area's.
In JDL action, Garrick Chiu, coming off a 3 week vacation to Hong Kong, shot a +5 41, to finish in 2nd place at the JDL @ Alhambra. Garrick had a birdie, 2 par's and 6 bogies in his round. David Cho finished in a tie for 8th place with a 47. David told his coach, George Pinnell, "I putted awful today." Coach assured David that he will be fine and that we will look at his putting in our next lesson.
Betty Pham placed 5th at the JDL @ David L Baker with a +14, 45, while Lucas Bao finished in 20th place in the Boys 11 & Under division.
At the Bridgestone Summer Championship, Reina Tain, shot 82-83 (165) to place 7th in the Girls 12-13 age division. Jimmy Gao, shot 46-37 (83) to finish in a tie for 15th place in the Boys 11 & under. Jimmy had a nice comeback in his second round score of 37. Henry Yang shot 44-42 (86) to place in a tie for 19th place.
Derek Kim shot 72-77 (149) to finish is a tie for 48th place in the AJGA event at Centennial Golf Club in Medford, Oregon. Derek, who has been playing well since the middle of summer was disappointed with his showing last week. The event was postponed one day because of the wildfires near Medford. Derek will get home to Irvine, CA, and work hard to improve in the area that gave him problem's in Oregon.