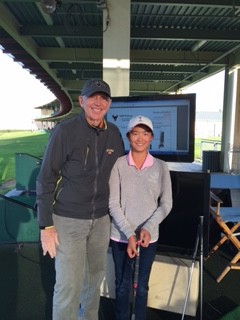 Twelve year old, Rose Zhang, posted her 5th top twelve in seven start's on the Toyota Tour this summer. Rose shot 75-75 (150) to finish is sixth place in the event contested at The GC of CA at Fallbrook. Her best finish this summer was a third at MountainGate CC. Rose started playing on the Toyota Tour when she was eleven, earlier this summer. Now she is a "seasoned" twelve year old chasing her dream.
Rose complained to her coach, George Pinnell, that she was unhappy with her putting inside of six feet. Pinnell challenged her "to make 100 putt's in a row from 3 feet. If you miss you have to start over. Text me when you get this done later in the week." The next day, Rose sent a text to Pinnell saying, "now what, I just made 170 putt's in a row. It was nerve wracking, but I did it. I missed the 171st one."
Rose's stellar performance this summer has her nineteenth on the Player of the Year standing's. She does not play other SCPGA Junior Tour event's, choosing to focus on the major Toyota Tour Cup competition. She will join the AJGA in 2016 and according to Pinnell, "should have an opportunity to have an outstanding career on the AJGA."
Andrea Han, a senior, shot 76-78 (154) to finish in a tie for 12th. Andrea has played a full schedule this summer and is preparing herself to play college golf in the fall of 2016.
Kat Muzi is currently third on the Player of the Year standings. Kat attended summer school so she has played in only five Toyota Tour Cup event's. She has posted two, second place , a fourth place, a sixth place and worst showing was a tenth place at La Quinta. Kat has played in four AJGA event's this year and finished second in three of the four!
Crystal Wang, fifteen, is eleventh on the Player of the Year standing's and has won a Toyota Tour Cup event at Santa Ana CC. Crystal has the win plus two top ten finish's this summer.
In the Boys Toyota Tour Cup, Matthew Huo finished nineteenth with a two day score of 79-77 (156). Matthew has been working on getting his arm's to match better with his body and to not use all of the speed he has at his disposal. Pinnell told Matthew, "just because you have a corvette that can go 160 mph does not mean you will drive it at all time's 160 mph! This applies to your golf swing as well. Learn to control the path and your club face and then you can use the speed you were blessed with."
Congratulation's to Rose, Kat, Crystal, Andrea and Matthew in their search to be as good as they can be.