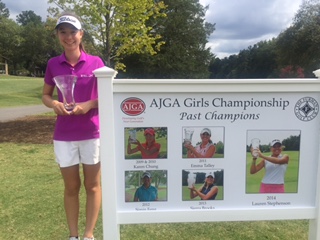 Katherine Muzi, enjoyed her Labor Day weekend with a tie for 5th place in the prestigious AJGA Girls Championship. The event was staged at The Furman Golf Club, Greenville, S.C. Kat got off to a slow start with a 77 in her opening day round. That left her in a tie for 28th place. Her second round got off to a rough start by going bogey, birdie, bogey. She made birdie on six but gave 2 shot's back to the field with a double bogey on 7. She made par's on eight and nine for a front side +2, 38. Her back nine was a different story. Kat made par's on ten-twelve before she made birdies on thirteen, fifteen and eighteen to post a solid 33 on the back for a second round total of -1, 71.
The final Memorial Day round started well for Kat, as she shot a 34 on the front side. She got it to -4 under par through twelve before she "backed up" two shot's with bogies on thirteen and fifteen. Kat reached deep inside of herself to finish with par's on the final three holes. Her -2, 70 moved her from a tie for 9th going into the final round, to her tie for 5th place in the event. Her 77-71-70 (218) will make the flight back to Los Angeles a little more pleasant for the sophomore from Walnut, California.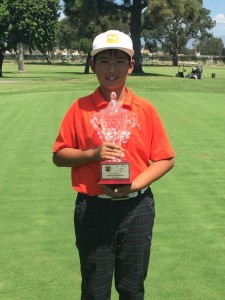 Henry Yang won the Boys 11-up LA County Championship with a 38-36 (74). Henry's work of getting his club more on plane is apparently work according to his coach, George Pinnell.
Mylan Hirata and Michelle Xu finished T4 and T6 respectively. Mylan told Coach Pinnell that she was unhappy with her front nine score of 38. She was much happier with her back side performance as she had 3 birdies to go along with 2 bogies to post a -1. She ended with a 66 on the par 60 layout.
Michelle Xu (celebrated her 15th birthday on Labor Day) shot a +7, 67 to finish a shot off Mylan's 66. Michelle had six par's, two bogies and a double in her +4 fornt side. Stharted the back nine with a birdie on 10 but gave that shot back as well as 2 more with bogies on eleven, twelve and thirteen. Michelle made four par's in a row before making a bogey four on the closing hole. The +3 was a good back side, but Michelle felt she should have played better on the front and back nine's. Michelle has embraced the K-Vest 3D Motion Capture system that Pinnell started using last month. Michelle said, "the K-Vest has helped me get my body into a better coiled position at the top."
Jomar Veloso shot 69 and finished in a tie for 11th place in the Boys 12-14 Division. Herong Wang shot 71 and finished in a tie for 17th place.
Congratulation's to Kat and all of the player's who are working hard to get to that "next level."