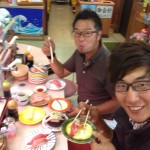 Jay Choi playing the Ana Open in Hokkaido, Japan, hooked up with his long time caddy Ota san, and the pair had a great week with Jay finishing in a tie for 16th place. Jay enjoys playing in Hokkaido and even more, so when Ota san agreed to "loop" for Jay. Jay shot 70-73-71-67 (-7) (281) and told his coach, George Pinnell that he was starting to find his game and enjoy the tour more than he has in the past year.
Jay has been playing relative well on the Japan Challenge Tour this year and earned his way into a number of JGTO event's. Jay played steady golf in the first 2 round's with a -2, 70 and a +1, 73 to make the cut. The 3rd round was a pretty pedestrian with 4 birdies, a bogey and a dreaded double bogey. His 3rd round 71 was encouraging as he entered the final round. Jay started on 10 with a birdie, stumbled on 11 with a bogey but then he ripped off birdies on 12, 15 and 17 with par's on the other 4 hole's. Jay's putter got "warm" and he went -3 in his last 8 hole's to finish at -7 and 16th place.
Jay credited his success to his hard work and being able to have Ota san caddy for him this week. Ota san is involved in a Junior Development Program in Hokkaido.