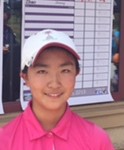 12 year old, Rose Zhang finished in a tie for 6th place in the Indian Wells TTC event over the weekend. The 12 year old competing against girls up to age 18 has showed her competitive edge in posting 74-75 (149). Rose was in a good position to make a run at a win after her first round 74. She got off to a hot start with birdies on 1 and 3. She slowed down on 4 with a bogey and another bogey on 6 put her back to even par after 6 holes. Rose made par's on 7 and 8 and birdied 9 to finish the front side at -1. A bogey on 10 and a triple bogey 7 on 13, damped her ability to pull off the win. The gritty 12 year old made bogey on 16 but made a good birdie on 17 and a par on 18, to post a 75. A par on 13 would have tied her for the lead and got her into a playoff. Her coach, George Pinnell, explained that "if you will keep putting yourself self in a position to win, it will happen. It is only a matter of time." Rose has 6 top 12 finishes in 8 events in 2015 and is the number 1 ranked 12 year old in the United States.
Andrea Han a junior, shot 81-78 (159) to finish in a tie for 22nd. Michelle Xu finished 27th with a pair of 82's (164) and Reina Tain was 30th at 170.
In the Boys Toyota Tour Cup, Matthew Huo finished in a tie for 14th place after shooting a solid 73 in his final round. He shot 77-73 (150).
At the Rancho San Joaquin Junior, Sammy Cho fired a 75 and finished in a tie for 3rd place in the Boys 12-14. This was a summer best performance for Sammy! Sammy's brother, David finished in 6th place with a 49 in the Boys 9-11 Division.
In the Toyota Tour Cup qualifier at El Prado GC, Mylan Hirata shot an 80 to finish 17th while Derek Xu finished 52nd with an 87. Derek is a 6th grader.