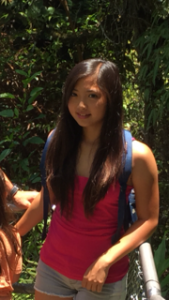 Mylan Hirata, 14, has been working hard this year to realize and experience the potential she has in competitive golf. It may have happened Sunday, in the Rio Hondo, SCPGA Jr Tour event. Mylan shot a +1 over par 72, in the Girls 14-18 Division. Mylan got off her round with two bogey's on 1 and 2. A par on 3 and then a birdie on 4, proved to be a turning point in her round. Mylan played her final 16 hole's in -1 under par to win the event over Brianna Kim's 75.
Mylan's aunt, Gail Lee Hirata, played on the LPGA and had her best year in 1982 when she finished the year in 53rd place on the Official LPGA Money List. Gail served as a member of the LPGA Player Council in 1981. Mylan has struggled in deciding if golf was as important to her future as her father, Derek and her coach, George Pinnell, believe that it could be. Learning to be patient and accept the inevitability of poor shot's and how to react to them, has been an issue for the talented young player who has a competitive side to her.
Junior golf, and specifically, the Southern California Junior Tour and the American Junior Golf Association (AJGA) has had positive influence's on many young players, let's hope Mylan has the same experience.