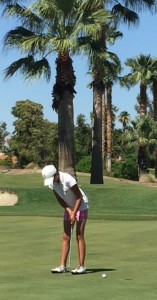 Rose Zhang continue's her quest to improve and become the best she can become. The 12 year old (Barely, May birthday), finished in 4th place with a 2 round total of 150 (76-74). Rose had an opening day 76 on the par 72 River Course at Alisal. She had a birdie and 5 bogies for a 38-38.
Rose's second round, was controversial because of a penalty for hitting from the wrong tee. Rose had shot a +1, 37 on her opening nine hole's and had the honor on 10. She teed the ball from one of two Red Tee Marker's and proceeded to hit her drive. After Rose's tee shot her playing partner informed her that she had teed off from the wrong tee and would have to be penalized. The two player's were playing as a twosome. Rose, realized her mistake and immediately made a great bogey on the hole with the penalty. Rose proceeded to make 8 par's in a row for a +1, 37 on the back nine for a +2, 74.
Golf is a sport that should exhibit the best of sportsmanship. If both player's did not realize the mistake prior to Rose's tee shot, then the "spirit of the game" is unaltered. However, if the player knew that Rose was teeing the ball from the wrong
tee, then it is within the "spirit of the game" to inform her that she is using the wrong tee, so that she does not incur a penalty.
Rose has finished within the top 12 in 7 of the 9 Toyota Tour Cup event's she has played in and has recorded 6 top 8 finishes. The talented player from Irvine, California, is currently the number 1 ranked player in the United States, in her graduating class of 2021.