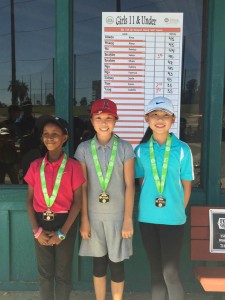 16 year old Anna Dong, shot 66 (-5) and won the Dad Miller Fall Event by 5 shot's over second place Kelli Vongsaga, who shot an even par 71. Anna, originally from Guangdong, China, now living in Lakewood, California, shot a front 9 score of 32 (-3). Anna had birdies on 4, 5, 7 and 8 to go with her lone bogey of the day on the 9th hole. The long hitting, 16 year old, made birdies on 11 and 18 with all par's on the remaining 7 hole's on her back 9. Her back side score was 34. (32-34) 66.
14 year old, Mylan Hirata finished in a tie for 7th place with a 79. Mylan shot 40-39 (79)
At the El Prado Fall event, Sam Cho, finished in a tie for 3rd place with a solid 76. The freshman from Diamond Bar, California, got off to a fast start with a birdie on 2 and an eagle 3 on the 3rd hole to go -3 after 3 hole's. Unfortunately for Sam, he made bogies on 4, 5 and 9 to score an even par 36. A bogey on 10 and a triple bogey on 14 prevented Sam from winning the event. His performance will give him more confidence in future event's. David Cho shot a 47 and finished in 9th place in the Boys 9-11 Division.
Mylan Hirata shot an 82 and finished 6th in the Girls 14-18 Division. Michelle Xu had to withdraw because of an injury.
At the Westlake Village event, Jomar Veloso finished in 9th place with a 78. Jomar is continuing his good play on the SCPGA Junior Tour.
At the Toyota Tour Cup event at Olivas Links, Christian Lingamen had a difficult weekend with a two day total of 155 (73-82). The long hitting Lingamen's 73 in the first round was offset by a difficult front 9 in the second round. Christian made a triple on 2 and 3, a bogey on 4 and a double bogey on 5 and another bogey on 7 for a 46. He settled down after the 7th hole and shot even par from 8-18.
In JDL action, Bella Yang won first place with a 42 in the Girls 11 & Under Division.
Congratulation's to Anna Dong and Bella Yang for their wins this week.