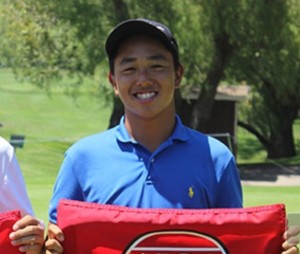 Derek Kim, won the Shandin Hills Fall event with a solid 67 (-5), winning by 4 shot's over J, Zhang's, 71. Derek started his round with an eagle 3 on the par 5 first hole. He gave back the two shot's by making bogey's on two and three. Derek made par on four before getting back to back birdies on five and six. A bogey 4 on seven was backed up by a birdie on eight and a par on nine to finish at -2 on his front side. Derek shot 33 (-3) on his back side for his 18 hole score of 67.
Derek has played well this summer after retooling his swing and making several swing adjustment's.
Sammy Cho, Diamond Bar, CA, shot an 81 and finished in a tie for 7th place. David Cho shot 53 and finished 11th in the Boys 9-11 Division.
Sammy Cho placed 14th in the San Dimas Fall Challenge with an 85
At the Lakewood Fall Challenge, Katherine Yu finished in a tie for 3rd with a +4, 78. Kathy had a birdie and 2 bogey's on the front side for a 38. The junior from Walnut HS, had a birdie on eighteen but made a double bogey and 2 bogey's for a back nine, 40 and a total score of 78.
Anna Dong, Lakewood, CA, finished in a tie for 5th place with a 79, one stroke behind Kathy. Anna shot 39 on her front nine and a 40 on her back nine.
Umbie Caseres, shot 74 (+14) to finish in a tie for 12th place in the Casta del Sol event.
Betty Pham shot a 41 in the JDL event at Heartwell GC to finish in 12th place.