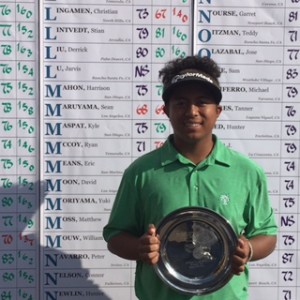 Christian Lingaman from North Hills, California, placed 4th in the first ever Southern California Junior Amateur Championship. The event is 36 hole's played on the Eisenhower Course at Pacific Palms Resort, in the City of Industry, CA.
The long hitting Christian Lingamen, shot 73-67 (140). Christian started on the 10th tee in the first round and shot an even par 36 with 9 par's before making the turn to number one. Christian, made bogey on one, birdied two and made a double on four, before paring out for a +2, 37 and an opening round 73.
Christian, lit up the "Ike," with birdies on two, three, six, eight and nine for a 30 (-5) on the front nine. He made his only bogey of the round on the par 5, 548 yard tenth hole. He went on to make par's on eleven through eighteen for a backside 37 and a total score of 67. Christian's two round total of 140 was one of his most consistent of 2015.
Christian has been working with George Pinnell and the duo have been trying to get Christian's club speed under control so that he can be more accurate off the tee and with his approach shot's. Christian's club head speed is 118 mph and it produce's 335 yard drive's. The 16 year old has sight's on obtaining a college scholarship and the outlook for Christian is good, according to Pinnell.