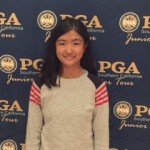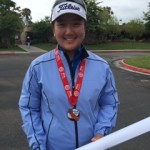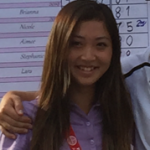 12 year old, Rose Zhang finished in 4th place at the Cory Pavin Invitational (Toyota Tour Cup), at the Westin Mission Hills Resort in Palm Desert, CA. The 54 hole format, called for 36 hole's to be played on Saturday and the final 18 to be played on Sunday. Rose shot a 3 over par, 73 in the opening 18 hole's. The youngest player in the field had a birdie and 2 bogies for an opening 9 hole score of +1. She gave up 2 bogies on her back 9 for a +2 and a total of 75 (+3). Rose has a history of playing better as the event progresses, as evidenced by her 2nd round score of 72. She had 3 bogies and a birdie in her 2nd round.
Rose continued to improve in the 3rd and final round. She shot an even par 70 with 2 birdies and 2 bogies to finish in 4th place. Rose has 8 top 8 finishes on the Toyota Tour Cup circuit in 11 event's. The Toyota Tour Cup Championship will be played at Sandpiper GC, December 12, 2015. Quite a record for the youngest player on the TTC!
Rose was paired with Haley Moore for 36 hole's in the opening day, Haley shot 68-71-65 (204) to win the event. Haley, who will graduate in 2016 has committed to the University of Arizona to play for the Wildcats. Rose who is about 5 year's younger told her coach, George Pinnell, that Haley was "bombing" her drive's waaay past her, and was putting for eagle on all of the par 5's.
Anna Dong, 16, from Irvine, CA, shot 75-78-70 (223) to finish T9. Anna shot 75-78 in the 36 hole opening day and told her coach she too many "unforced error's" that contributed to her high score's. Anna settled down in the final round and shot a solid even par 70. Anna had 3 birdies and 3 bogies in her final 18 holes.
Mylan Hirata, 14, got into the winner's circle with a victory at the SCPGA JR Tour event at Upland Hills Country Club. Mylan's 77 was enough to win by a shot over the 2nd place, M Mills. Mylan had a birdie and 8 bogies to win the event. Her back nine was a little different. The up and coming freshman went par, bogey, par, bogey, par, bogey, par, bogey and a par on 18! This is a good sign that she never gave up and continued to "grind" on the back nine.
At the TTC Morongo Qualifier, Sam Cho finished in 49th place with an 87.
Mylan Hirata finished in 4th place at the Willowick PFC. Mylan shot a +9, 80. Mylan was not pleased with her performance of posting 3 double bogies and two of them were back to back. She bounced back the following day with her win at Upland Hills.
In JDL action, Bella Yang is making winning a habit! The youngster from Chino Hills, CA, shot 37 and won the JDL Fall Event at Casta del Sol GC. Garrick Chiu finished in a tie for 9th at the JDL Fall Event at Alhambra GC. Garrick shot a 45.
Congratulations to all of the young player's who striving to be "The best they can become."