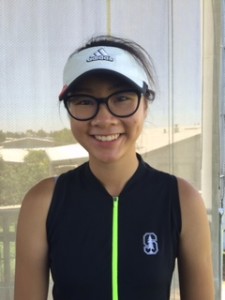 Catherine Yu, a junior at Walnut High School, shot 82-78 (160) to finish in 7th place in the Future Champions of Golf Tournament at Santa Barbara, CA. The event was played at Sandpiper Golf Course, October 31-Nov 1.
Catherine shot an 82 in the first day and realized that it would have helped if she had planned a practice round on the difficult Sandpiper Golf Course. she was +4 after her 4th hole before making par's on 5 and 6. Cath then bogied 7, made a par on 8 and another bogey on 9 for a disappointing 42. Her back side was better with 6 par's, 2 bogies and a double bogey for a 40.
The second round was better with a 38-40 (78) finish. Catherine made the weekend more difficult by not planning a practice round and driving to Santa Barbara the morning of the event (110 mile's) and then return home following the first round. She attended homecoming festivities that evening and then got up early to drive back to Santa Barbara, to play the final round. Youth has it's advantage's, her coach, George Pinnell, told her. He advised her against her plan, but Cath was determined to make the journey and she really wanted to join her friend's for homecoming. "All's well that end's well," Pinnell said.
At the Alhambra Fall Challenge, Andrea Han shot 78 and finished in a tie for 5th place. Andrea had 10 par's, a birdie on her final hole, 6 bogies and a double bogey on the Alhambra Golf Course. Sam Cho finished in a tie for 22nd place with a 79, while his brother David shot 44 and finished in a tie for 9th place in the Boys 9-11 Division.
At Whittier Narrows Golf Course, Arlene Salvador, shot 79 to qualify for the Toyota Tour Cup at Ojai Valley.