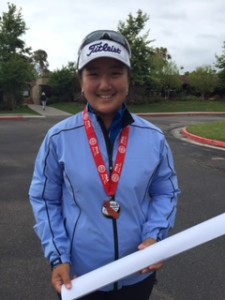 Reina Tain, Torrance, CA, shot a 77 (+7) to win the El Prado Fall event on the Southern California Junior Tour. Reina had a birdie, 4 bogies and a double bogey in her victory. Mylan Hirata, shot am 80 and finished in 4th place in the Girls 14-18 Division. In the Boys 9-11 Division, Derek Xu, finished in a tie for 4th place with a +2, 38.
Sam Cho finished in a tie for 9th place with an 80 om the Boys Division 12-14.
Anna Dong, 16, shot 75-76 (151) to finish in 2nd place in the TATC @Sycuan Resort. Katherine Muzi, shot 73-85 (158) to finish in a tie for 9th place. Matt Huo shot 78-74 (152) fo finish in a tie for 26th place as Newport Laparapjkit shot a pair of 77's (174) to finish tied for 35th place.
Mylan Hirata shot 79 and finished 5th in the Scholl Fall event. David Cho shot 54 to finish in 9th place at The San Joaquin Fall Event. Sam Cho shot a solie 74 (+2) to finish in a tie for 2nd place in the Boys 12-14 Division.
In JDL Action, Bella Yang finished tied for 6th place with a 39 at The JDL Fall @ Brea Creek.